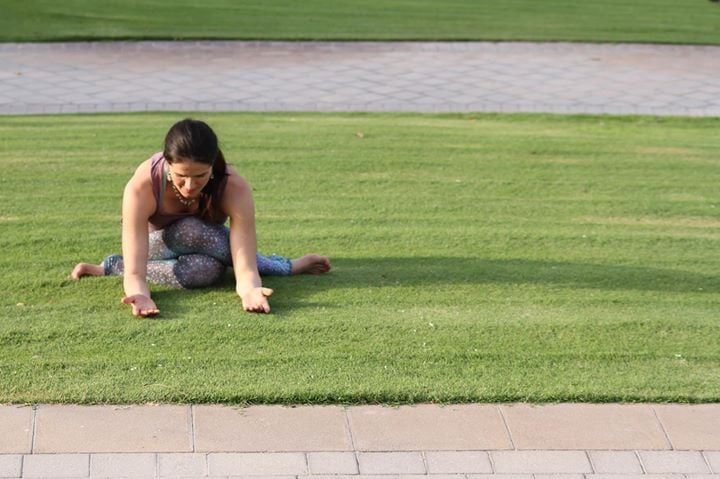 Event Details
Are you looking for a relaxing session of delicious body stretch and missing peace of mind?

Because of the summer heat we will be practicing YIN YOGA every Wednesday at 7:30 pm at Umm Suqeim Park till the end of September.

So what exactly is YIN YOGA? It is a more meditative approach with a physical focus much deeper than Yang like practices. Here the practitioner is trying to access the deeper tissues such as the connective tissue and fascia and many of the postures focus on areas that encompass a joint (hips, sacrum, spine). As one ages flexibility in the joints decreases and Yin yoga is a wonderful way to maintain that flexibility, something that for many don't seem to be too concerned about until they notice it is gone.

YIN YOGA postures are more passive postures, mainly on the floor and the majority of postures equal only about three dozen or so, much less than the more popular yang like practices. Yin Yoga is unique in that you are asked to relax in the posture, soften the muscle and move closer to the bone. While yang-like yoga practices are more superficial, Yin offers a much deeper access to the body. It is not uncommon to see postures held for three to five minutes, even 20 minutes at a time. The time spent in these postures is much like time spent in meditation, and we often talk students through the postures as if they were trying to meditate. While in a Yin class you might notice similar postures to a yang class except they are called something else, on a basic level this is to help the students mind shift form yang to yin, active to passive.

Join us for deep relaxing Wednesday evenings to begin your yoga journey. We will explore simple asanas, breathing, focusing techniques, mediation, learning how to improve your flexibility and strength and how to prevent and avoid yoga injuries..

These sessions are suitable for everyone from absolute beginners to those looking for a different angle on an established practice.

Times: every Wednesday, 19:30 – 21:00
==================================================
ABOUT NATALIA FATA:
Natalia's introduction to yoga happened 16 years ago when she came to Turkey for her studies through the book that inspired her to start practicing Yoga. She is E-RYT 500 and E-RYT 200 Yoga Instructor with over 11 years of yoga experience and over 7 years/6,000 hours of experience in teaching yoga in Hatha, Vinyasa, Ashtanga and Yin Yoga styles. She teaches in a thought provoking ways letting the students to reach beyond the limits of their mind and body while experiencing the joy of being present and in balance. Being energy sensitive and a light worker, she has an amazing way of understanding students various needs and is helping them to achieve their goals. Her main goal in teaching is to help all her students experience the joy of wholeness by bringing them into balance, physically, mentally and emotionally. She inspires people to find the enjoyment, harmony and meaning in their lives. Her teachings and classes are suitable for all levels and challenging not only physically but also mentally.