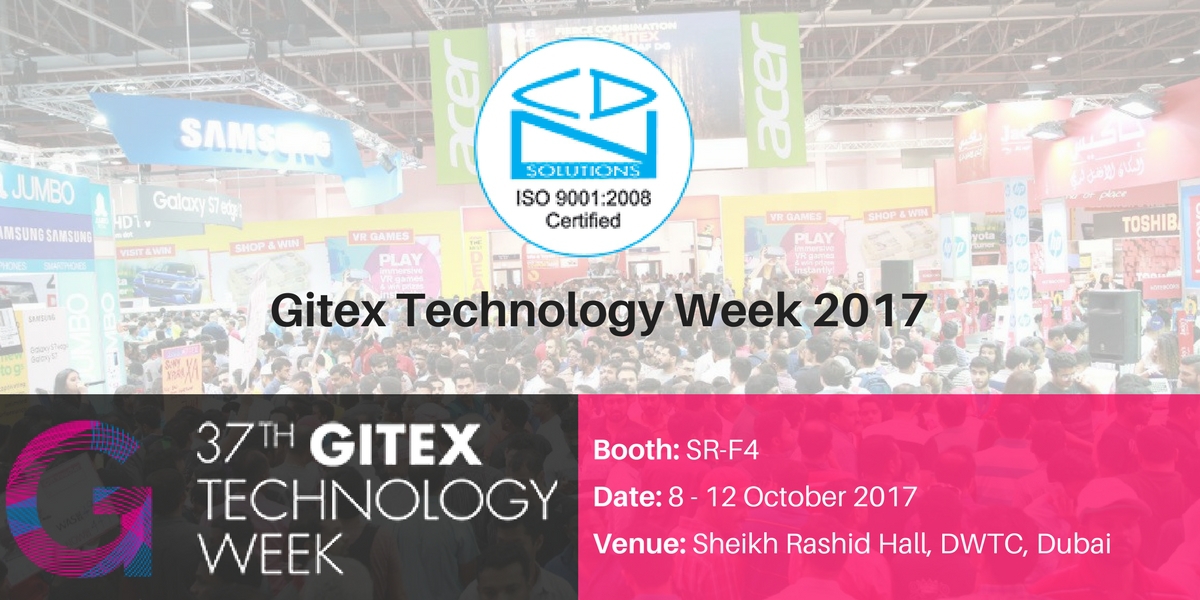 Gitex Technology Week 2017 Dubai
dubai
Sun Oct 8th 2017 to Thu Oct 12th 2017 at 10:00 until 18:00
---
Dubai
,

SR-F4

,

Sheikh Rashid Hall

,

Dubai

,

Dubai
https://www.myguide-dubai.com/events/gitex-technology-week-2017-dubai
BOOK NOW
Event Details
Gitex Technology Week is one of the largest and longest ICT expos, where hundreds of tech enthusiasts, industry leaders, influencers, start-ups and business solution providers will gather to explore the innovation of latest technologies, exclusive business solutions and digitalization.
This year, Gitex Technology Week is going to held from 8th – 12th October, 2017 at Sheikh Rashid Hall, Dubai World Trade Centre. Apart from the latest technology innovation, this year, Gitex will bring some smart solutions for sectors like; smart manufacturing, global smart cities, vehicle tech and robotics.
CDN Solutions Group is exhibiting in Gitex Technology Week 2017 for the 9th consecutive time. This year we will bring some exclusive solutions for your business that will definitely help you to overcome your pain areas of business. CDN Solutions Group is an award winning IT service provider company and have best hands in mobile app development, web development, CRM and eCommerce, latest technology solutions in Internet of Things (IoT), Hardware Integration, Wearable, Beacon, Augmented Reality (AR), Virtual Reality (VR), Cloud Technology, etc. Many large enterprises and SMEs have benefited from our services. We also provide end to end solution to Startups across the globe.
The delegates of CDN Solutions Group will present their innovative IT solutions at Stand SR-F4 in Sheikh Rashid Hall India Pavilion, Dubai World Trade Centre from 8th to 12th October 2017. Pre-fix a meeting with us to meet in Gitex Dubai here: - https://www.cdnsol.com/events/gitex-technology-week-2017/
CDN Solutions Group have keen interest in start-ups. We understand the hurdles a startup face while developing their product. So we have something special for them in the form of our special kit for start-ups. So we at CDN Solutions Group are inviting you to visit our stand SR-F4 to discuss your idea and find the potential collaboration between us. Feel free to contact us here to share your idea: - https://www.cdnsol.com/events/gitex-technology-week-2017/
Free e-Invites available on request here: - https://www.cdnsol.com/events/gitex-technology-week-2017/