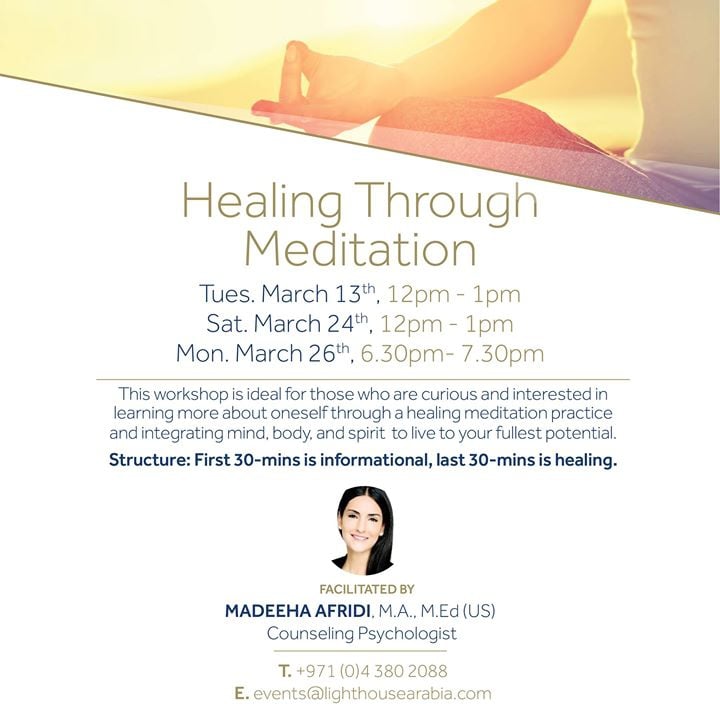 Healing Through Meditation
The LightHouse Arabia
Tue Mar 13th 2018 to Mon Mar 26th 2018 at 12:00 until 19:30
---
Dubai
,

821, Al Wasl Rd, Al Safa 2

,

Dubai

Dubai
https://www.myguide-dubai.com/events/healing-through-meditation
BOOK NOW
Event Details
Are you interested in learning more about yourself and curious about what you could achieve if you put your mind to it? Healing Through Meditation is a self-healing meditation practice that integrates mind, body, and spirit for you to live to your fullest potential.

----
⠀
Join us for a workshop, segmented into two 30-mins sessions. The first 30 mins are informational followed by the last 30 mins for healing. You are welcome to attend both or just the healing section. For first-timers, it is highly recommended to attend for the full length.

----
⠀
Date:
Tuesday, March 13th ; 12pm - 1pm
Saturday, March 24th ; 12pm - 1pm
Monday, March 26th ; 6.30pm - 7.30pm

Fee: AED195 per person

Location: The LightHouse - Center for Wellbeing
Reservations: events@lighthousearabia.com⠀
*Group spaces are limited, please contact The LightHouse to book your space for this group.

----

In this workshop, participants will:⠀
- Be introduced to the basic information about, and importance of, energy centers, also known as chakras or meridians, in your body.
- Explore energy centers to help you balance and manage the mental, emotional, spiritual, and physical blocks that most people experience in their daily lives.⠀
- Be led through a healing and energy balancing meditation.

---

About the facilitator:
Madeeha Afridi, M.A., M.Ed (US)

"I believe every person has the human potential and ability for lasting growth and change, and I look forward to being a part of this journey with my clients."

Trained in psychotherapy and family treatments including psychoeducation and individual/group therapy, my clinical experience focuses on the treatment of mental and emotional disorders, childhood behavioral disorders, depression and affective disorders.

In addition to individual therapy, I facilitate psychoeducational groups and workshops on topics including skill building, self-awareness and self-actualization, and mindfulness.