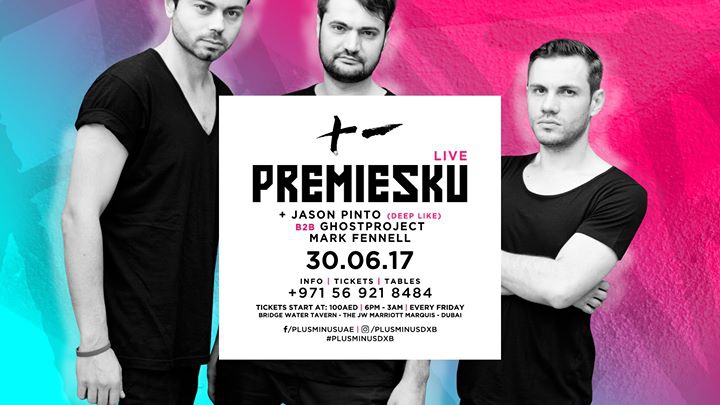 Event Details
We promised you one hell of a Summer Season, and we are about to deliver with our epic launch party which is paving the way to 11 Fridays with non stop international and local heavy weights!

Launching on June 30th 2017 - #PlusMinus presents: Premiesku (Live) with support from Jason Pinto B2B Ghost Project & Mark Fennell at our new home // Bridgewater DXB // JW Marriott Marquis Hotel Dubai // Business Bay //

*** Plus Minus PM
6 – 9pm FREE ENTRY for everyone and food offering (optional).
Choice of 5 beers or 5 cocktails or 5 soft drinks + a starter & main course for only AED275 and includes yuor ticket for teh event after.

*** Plus Minus Club
9pm - 10pm FREE ENTRY for ladies
9pm – Midnight AED 100 for all
Midnight onwards AED 150 for all

Dress Code: Dance friendly
20% OFF for PLATINUM Holders at the bar.

Reservations & Information: +971 56 921 8484


Romanian duo Livio & Roby, together with their pal George G, sometimes like to play with words, make anagrams or combine formulas. As a result of this game, they derived a name "Premiesku" for their mutual project, suggesting "premiere" which resonates as a Romanian name. That is what their collaboration is about - a unique new experience, which is already gaining accolades from many party heads, acclaimed music professionals and opinion leaders.

The name reflects the music: the crossing of their diverse vibrant inspirations and moods breeds a new concept of genuine, recognisable sound. As virtuoso audio engineers, they intelligently structure their (sometimes) heterogeneous ideas into powerful and dynamic compositions that catch the heart, the body and the mind of a listener.

With a busy tour schedule in some of the world's most renowned clubs like Sankeys Ibiza, The Warehouse BCN, Rooftop R2 Marseille and various events in Off Sonar, nothing seems to stop the rise of the Romanian trio.

Plus Minus are proud to welcomes one of the best Romanian LIVE acts out there Premisku LIVE.