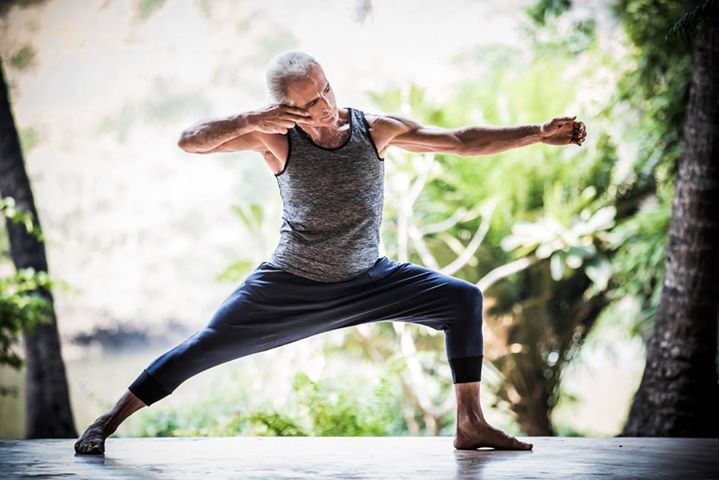 Event Details
The Yogi Secrets of Asana, Vinyasa, Pranayama & Bandhas

ABOUT THE MODULES
Master Classes will focus on posture, movement and breathing. The workshop will conclude with a flowing and meditative visually-instructed led practice to music (no verbal instructions)
WHAT YOU WILL LEARN:
How to Nourish, Energesi and strengthen your body while developing blissful, grounded calmness.
By Simon Borg-Olivier MSc BAppSc (Physiotherapy) APAM

In this special 4 modules workshop, Simon Borg-Olivier, a research scientist and physiotherapist who has taught posture, movement and breathing for 35 years, will show you how to practice in a way that can energise, nourish and strengthen your body while developing blissful, grounded calmness. In this safe, accessible and effective way of practicing Simon will show you how to move actively and fluidly from your core while initially allowing your body to breathe for you, and later developing breath-control. You will be shown special types of core stabilisation for the whole body that can stabilise and nourish your joints and muscles, prevent and heal injuries, and relieve physical pain. This practice allows you develop fitness and internal health by using spinal movements and graded diaphragmatic breathing into an abdomen firmed through posture. Techniques taught in this workshop also help improve the digestion of food, absorption of nutrients, elimination of waste and stored toxins, and the health of the reproductive system.

• improve flexibility without feeling intense stretch
• improve strength without feeling tense or stressed
• become more relaxed without needing to be completely passive
• improve your energy levels without having to breathe more than normal
• promote circulation without needing to make your heart beat faster
• improve the intelligence of your body cells without having to over-think
• satiate your appetite and feel nourished without having to eat as much
• feel rested and rejuvenated without having had to sleep as much



1. Anatomy of Essential Asanas, Technical Aspects of the Vinyasa System & Pranayama techniques
Wednesday 8.11.2017
6.30pm to 9.30pm

2.Essential Asanas & Breathing Techniques
Thursday 9.11.2017
6.30 pm to 9.30pm

3.Vinyasas & Bandhas
Friday 10.11.2017
10 to 1pm

4.Flow sequencing: principles & techniques
Friday 10.11.2017
6 to 9pm


The shortest distance between two points is not always a straight line. The best way to get into Classical yoga postures is not just to go straight to the posture. Superior results are attained when moving actively from the core with a systematic progression of individual spinal movements. Postures are easier with less strain and produce warmth within the blood maintaining calmness of heart-rate and nervous system.
In the subtle anatomy of hatha yoga their are two spiralling snakelike channels, corresponding in some way to the sympathetic and parasympathetic nervous systems, that are referred to as the Ida Nadi and Pingala Nadi and the spinal cord contains the Sushumna Nadi. When viewed from above the head the spiralling of these channels looks like the yin yang symbol or even the ancient swastika symbol . The places where the snake-like spiral nadis crossover up the trunk is the supposed location of the main chakras (energy centres) of the body. Each of these main chakras corresponds to and seemingly has relationships with main endocrine glands and also major nerve plexi. The 'opening' or 'unlocking' of, and the voluntary control of the chakras is a major aim in hatha yoga and can in fact be the tool that allows yoga and yoga therapy to be effective. In order to heal any part of the body especially the internal organs or body systems the only thing we can actually control is our mind, which can control muscles, which can affect posture movement and breathing.

Each module: 400 AED
All 4 modules as package:
136.1 members: 1300 AED
Non members: 1400 AED

Only Friday modules: 700AED
136.1 members: 650AED

Super Early Bird: AED 1150 (valid till 15th July ).
Early Bird: AED 1250 (valid till 31st of August).


Introducing Simon:

Simon Borg-Olivier MSc BAppSc(Physiotherapy)APAM
Course Coordinator/Lecturer,
Masters of Wellness Degree RMIT University
Director Yoga Synergy PL, Australia
Simon Borg-Olivier MSc BAppSc (Physiotherapy) is a director of YogaSynergy, one of Australia's oldest and most respected yoga schools with a style based on a deep understanding of yoga anatomy, yoga physiology and traditional hatha yoga. Simon has been teaching since 1982. He is a registered physiotherapist, a research scientist and a University lecturer. Simon has been regularly invited to teach at special workshops and conferences interstate and overseas since 1990.
Simon was introduced to yoga at age six, learning breath retentions from his father and the main bandhas (internal locks) by Basil Brown (an Olympic athletic). At age 17, Simon studied for one year with a Tibetan Lama who introduced Simon to the philosophy and practice of tantric yoga. In 1980, Simon started the postures and movements of hatha yoga, eventually learning with BKS Iyengar, K. Pattabhi Jois and TKV Desikachar.
Simon met his main teacher Natanaga Zhander (Shandor Remete) in 1985 and had the privilege of studying intensively with him for almost two decades. Simon credits Zhander as being the most important person in his pursuit, passion and understanding of hatha yoga.
Since 2007, Simon has continued his training with Master Zhen Hua Yang, who has achieved remarkable levels of physical and physiological skill due to the knowledge his family gained from Tibet as well the Shaolin and WuDang temples in China.
Simon studied and taught at Sydney University over a period of 20 years. In that time he completed a Bachelor of Science in human biology, a research based Master of Science in molecular biology and a Bachelor of Applied Science in Physiotherapy. In 1988, Simon met physiotherapist and yoga teacher Bianca Machliss. Together, over the last 20 years, Simon and Bianca have developed the unique YogaSynergy system.
Simon has regularly taught yoga to dance companies (Sydney Dance Company, Darc Swan, Bangarra Dance Company) and lectured at the University of NSW and the University of Western Sydney Dance Departments. In addition, he has performed with several dance productions and numerous yogic dance performances. Simon regularly gives artistic demonstrations of advanced yoga vinyasa (linked sequences of postures) to music.
Simon has co-authored many books and scientific articles. Author and journalist Alix Johnson featured Simon's personal history and philosophy of yoga in her book 'Yoga: The Essence of Life: Eight Yogis Share Their Journeys' (2004). Simon has contributed chapters on yoga to several technical books including 'An Introduction to Complementary Medicine' (2005) edited by Terry Robson and 'Integrative Medicine Perspectives' (2007) edited by Professor Marc Cohen. He regularly contributes articles to 'Australian Yoga Life Magazine', 'Well Being Magazine', 'Australian Natural Health Magazine', Art of Healing Magazine' and several Russian Yoga Journals. Simon's postures have also been featured in many yoga books including Christina Brown's bestselling book 'The Yoga Bible' (2003), Jesse Chapman's books 'Yoga Postures for Your Body, Mind and Soul' (2000) and 'Yoga for Inner Strength' (2004) and James Houston's book 'One' (2005).
Simon is regularly invited to speak on radio and has had numerous television appearances. He is featured in the recently released film 'Yoga and Me' (2009) produced by Robbie Baldwin. He has also been invited to be a guest lecturer/presenter at many conventions and annual conferences, including the Australian Physiotherapy Association (APA) (1997, 1998), Pilates Australia (2004, 2007) Sydney Yoga Expo (2004, 2005, 2006, 2007, 2008), Byron Bay Yoga Festival (2006, 2012), the 'Yoga and Science' Conventions (1996, 2005, 2006), the Asia Yoga Conference (Kuala Lumpur, 2007), the 13th International Holistic Health Conference (2007), the FILEX Convention (Australian Fitness Leaders Network) (2007, 2008, 2009, 2010), the International Ayurveda and Yoga Conference (2006, 2009), Happiness and its Causes Conference (2010), Pilates and Yoga Therapy Conference (Athens, 2013), Bali Spirit Festival (2012, 2015, 2016), Russian Rainbow Yoga Conference (Moscow, 2013; Turkey 2014, Turkey 2017), Barcelona Yoga Conference (2015), Namaste Yoga Conference (Jakarta, 2011, 2015, 2016), Berlin Yoga Festival (2015) and MURFEST (Kuala Lumpur, 2015, 2016) and the Groove Yoga Festival (India, 2015, 2016).
Since 1995 Simon has been teaching courses in the Applied Anatomy and Physiology of Yoga internationally. Apart from training many teachers in the YogaSynergy System with Bianca Machliss, Simon has also been an invited guest lecturer at many major yoga teacher-training courses throughout the world, including the International Yoga Teachers Association (IYTA) (1990, 1997, 2001, 2002, 2005, 2006, 2016, 2017), 'Sydney Yoga Centre Teacher Training' (1995, 1996), 'Yoga Arts Teacher Training' (Byron Bay, 2000, 2001), 'InspyaYoga Teacher Training' (Byron Bay, 2006, 2007, 2008), the Yoga Teachers Association of Australia (YTAA) (2007, 2008, 2009), 'Yoga Zone Teacher Training (Kuala Lumpur, 2007), Ysynergy Teacher Training (Kuala Lumpur, 2007, 2008), 'Vibrant Living Yoga Teacher Training' (Bali, 2008, 2009, 2010) and 'Yoga Jaya Teacher Training' (Tokyo and Osaka, 2009).
Simon has conducted workshops or lectured internationally in Australia, China, Germany, Greece, Hungary, India, Ireland, Italy, Japan, Malaysia, Malta, New Zealand, Russia, Qatar, Singapore, Spain, Turkey, Thailand, UAE, UK, and USA.
In 2007 Simon was approached by Professor Marc Cohen of RMIT University (Melbourne) to create a course called 'Body, Breath and Movement'. Simon is now the main lecturer and course coordinator of this course which he developed and wrote with Bianca Machliss. The course has been running since 2008. The course uses Simon and Bianca's 460-page book (Applied Anatomy and Physiology of Yoga) as its main text book. This course forms part of the new internationally recognised Master of Wellness degree. In 2010 Simon and Bianca developed and are now teaching a new course for this Degree called 'Yoga Fundamentals'. This is the first-time Yoga has ever been taught as university degree subject.
Simon undertakes regular private yoga and health consultations and travels interstate or overseas to teach at special workshops and conferences between 20 to 30 weekends every year.