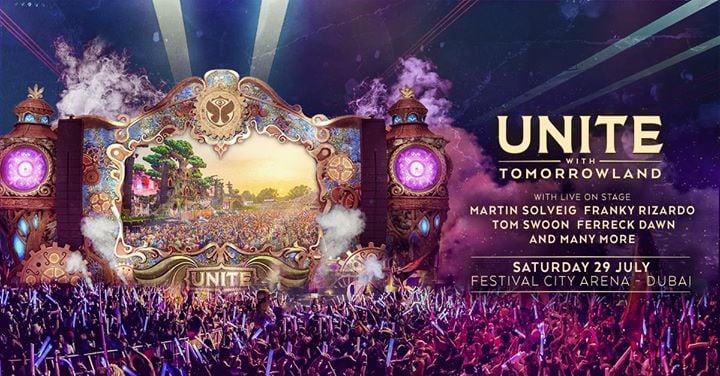 UNITE With Tomorrowland - Dubai
Festival City Arena
Sat Jul 29th 2017 to Sun Jul 30th 2017 at 14:00 until 03:00
---
Dubai
Dubai
https://www.myguide-dubai.com/events/unite-with-tomorrowland-dubai
BOOK NOW
Event Details
People of Tomorrow,

It is time to embark on a magical new journey.

It is time to bring the biggest gathering on the planet to Dubai.

It is time to write a fascinating new tale.

It is time to UNITE with Tomorrowland…

For the first time ever on July 29, a beautiful bridge between Belgium and Dubai will be build with a live connection from the Tomorrowland Mainstage, Live DJ sets on the local UNITE stage and the unique, magical Tomorrowland atmosphere.

Be a part of the magic in Dubai at the indoor Festival City Arena by Pre-Registering now. Only way to secure a ticket is through Pre-Registeration.

Please note that Pre-Registration does not guarantee you a ticket. It only offers you the possibility to get access to the ticket shop on date of the ticket sale via a personal link.

Prepare to trust your senses and dive into the unknown as tickets go on sale live on April 10!

Live Today, Love Tomorrow, Unite Forever.