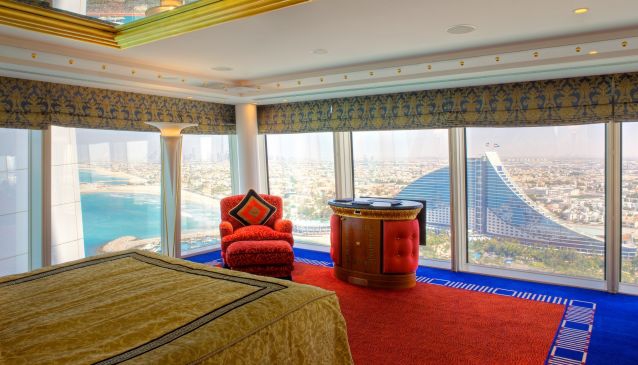 Blow your Budget in Dubai
Inspiration
Dubai is full of establishments that are happy to separate you from your cash
A holiday in Dubai can be managed on a low budget. A package deal covering hotels and flights, eating out in the amazing variety of cheap restaurants, shopping for designer knock-offs in Karama.
But if you have the money to spend, you will find yourself able to enjoy an unforgettable vacation in one of the most memorable cities in the world – a city where money can buy just about every luxury experience you could possibly ask for. Dubai is an infinitely varied playground, full of establishments that are happy to separate you from your cash. And blowing your budget here is not difficult. With its luxury hotels, Michelin starred restaurants, exclusive nightclubs, elegant and luxurious spas, and more shopping outlets than you could ever possibly need, Dubai's highlights rival those of many other cities.
Just think about your accommodation options. Where else in the world can you enjoy the unsurpassed luxury of the Burj Al Arab. This Dubai icon is recognised just about everywhere, and even appeared in an episode of Dr Who. But if you want more freedom and privacy than is offered by a luxury hotel, think about renting a luxury furnished villa on Dubai's Palm Jumeirah.
When it comes to meals, Dubai's restaurant highlights include fine dining at Reflets par Pierre Gagnaire in the InterContinental Hotel in Dubai Festival City, or picking up a pizza at Ronda Locatelli in the Atlantis Resort. For afternoon tea, it's hard to go past High Tea at The Lounge at At.mosphere on the 122nd level of Burj Khalifa.
Sick of restaurants? Or you just want to spend a night in? Indulge in a private dining experience. Chef Tomas Reger will take the hassle out of eating at home, whether it's a private meal or you're entertaining friends. He will plan your menu, source the ingredients (organic where possible), and prepare the meal. He'll even bring any kitchen equipment he needs. Worried about which wine to serve? Chef Tomas has contacts with sommeliers and they can work together to select the perfect wines to complement your perfect meal.
Want to experience some of the highlights of Dubai's social calendar? Top of the list is probably the Dubai World Cup, hosted at the Meydan Racecourse. Entertain friends and family in one of the elegant hospitality suites or book in for afternoon tea at the First Class Lounge.
If you're after an active vacation Dubai offers a range of alternatives. Take golf lessons with a pro at Dubai Creek Golf Club and enjoy views of Dubai Creek. Spend three days learning the fundamentals of polo at the Dubai Polo Academy. Charter a yacht and head in to the warm waters of the Arabian Gulf for some deep sea fishing. Go skydiving. It's all possible in Dubai.
Of course luxury shopping will be on the agenda for your budget-blowing holiday. For your pick of the latest fashion from high-end designers head to Fashion Avenue in The Dubai Mall. For jewellery I suggest a visit to Graff in Wafi Mall. While you're there you can also visit Chanel, Versace, Roberto Cavalli and Jaegar for clothes, or buy a gorgeous limited edition pen from Mont Blanc. Why not hire a personal shopper to help you out? Style and image consultant Bridget Deane will help you choose the perfect pieces to spice up your wardrobe.
Now you're nicely kitted out, you want to show off your new clothes, right? Why not book a lounge at the Cavalli Club for your friends? This is the only venue in the UAE where you can indulge in sharing rose champagne from the largest bottle in the world – Armand de Brignac 15 litre rose. Sounds like the perfect drink to fuel a night of dancing. Or head down to Armani Privé at Burj Khalifa, which also has a reputation for fast-paced fun and good music.
Shopping and sports tired you out? It's time to relax and rejuvenate, and in Dubai you're spoiled for choice. The award-winning Talise Spa at Al Qasr (Madinat Jumeirah) is an oasis of calm where you can recharge your batteries for your next assault on the golf course, night clubs or shops. Or indulge in a 24 Karat Gold Facial Treatment at Raffles Spa.
Whatever you want, if you've got money, there will be someone in Dubai who can help you spend it!
PUBLISHED: Jul 22nd 2017 | UPDATED: Jul 10th 2017