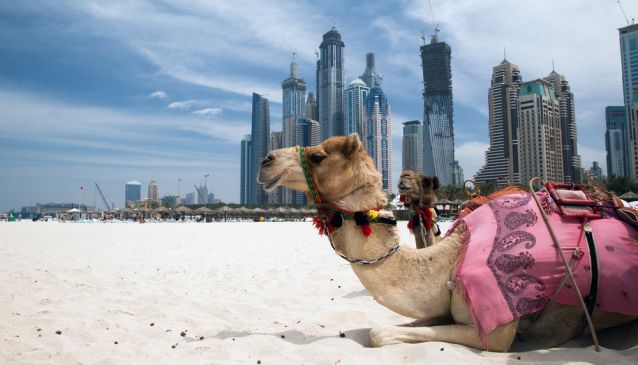 Dubai's Top 5 Desert Distractions
Adventure
Nothing says 'desert' like the iconic image of camels trekking across a sand dune.
Thrusting into the sky in a shimmer of steel and glass, Dubai is a city famously built on sand; from the windswept dunes of the Arabian Desert to the pale beaches of the Arabian Gulf. The sandy shores of Dubai offer an obvious holiday escape – but what about the desert? Far from a boring wilderness, the Arabian Desert is a mystical place, full of tales and traditions and offering travellers something a little more authentically Middle-Eastern.
Taking to the sand should never be attempted on foot – the Arabian Desert is a vast stretch of hot dunes, and you'll never get anywhere under your own steam. The perfect way to explore is 'dune bashing' – roaring up and over the sandy hills in a 4x4 or a dune buggy.
Dune Buggies
In particular, a very popular activity in the desert is off-roading with dune buggies. Jump into the driver's seat of a twin-seater 700c buggy and take to the sand – you'll be following the tracks of a guide so can't lose your way. Not for the faint-hearted, a dune buggy experience is bumpy yet exhilarating, with plenty of opportunity for some spadework if you get yourself stuck in the sand! Spice up your day out dune bashing by racing your friends around a sandy track – the perfect addition to get your adrenaline pumping. Tour operators such as Delta Adventures run these safaris, with the cost around AED 600 per person.
4x4 Safaris
If you don't fancy tackling the dunes yourself, join a desert safari. The tour company Arabian Adventures offers exciting desert drives in its distinctive red and white 4x4 vehicles, giving you the chance to take in the unusual surroundings without the distractions of brakes or pedals. The skilled drivers whisk you out over the rusty sand and deep into the desert, where you'll watch an exotic sunset and feast under the stars in a traditional Bedouin-style camp. The tour also includes the classic desert pastime of camel riding, and costs AED 360 for each adult.
Sandboarding
Here's a sport where the desert sand is not only a plus, it's essential! Sandboarding – which is often included as part of a 4x4 or dune buggy safari – closely resembles snowboarding, but involves sliding down dunes rather than snowy slopes. This is a great adrenaline activity in the desert - professional sandboarders can reach speeds of 50mph, and you needn't be afraid of a fall in the soft dunes.
Around 30 minutes from the city is a patch of desert with some of the biggest dunes in the country - this is a popular area for sandboarding with several dunes boasting heights of 200-300 metres. Grab a sandboard and start off on the smaller dunes, working your way up to the larger hills when you gain confidence and skill. If you really want a challenge, head to 'Big Red', the most famous and largest dune, with slopes as steep as a black ski run! Just don't forget to drink plenty of water and avoid sandboarding in peak temperatures - it's best in the morning or late afternoon. Also, watch out for dune buggies and 4x4s around Big Red. It is popular with desert enthusiasts like you.
Desert Camping
The Arabian Desert offers several unique and secluded resorts, such as Al Maha Desert Resort & Spa. These provide luxurious desert accommodation and a range of exciting activities, but to really soak up the magical atmosphere of the Arabian Desert, you need to camp out under the stars. Areas such as the Dubai Desert Conservation Reserve allow you to stay in a Bedouin-style camp on the reserve, where an evening includes an Arabian dinner of kebabs and barbequed meats, accompanied by traditional belly dancing. You can also join wildlife drives - spotting the distinctive white oryx - and star gaze before tucking up for the night in your desert tent. Many tour operators can help plan your next desert safari or excursion. The combination of dune bashing and camping is as memorable an experience as one could hope for in this part of the world, and dare we say, one that will leave you in awe of the beautiful desert surroundings.
Camel Safaris
Nothing says 'desert' like the iconic image of camels trekking across a sand dune. A camel safari not only gives you the chance to ride these majestic creatures in one of the most striking places on Earth, but it also immerses you in the Arabian culture and tradition. Join an organised tour and complete your leisurely camel-stroll along the dunes with Arabic coffee, fresh dates and a performance from local bellydancers - what an evening! Just don't forget to thank the camels, your willing desert companions.
- - -
So there you have it. Five different ways to enjoy Dubai's ever-present desert. It may not be the most hospitable of places, but it's definitely a lot of fun, and a welcome contrast to the city's towering skycrapers, huge air-conditioned malls and bustling beaches. Just remember to bring sunscreen and a sense of adventure!
PUBLISHED: Jul 8th 2017 | UPDATED: Jul 10th 2017