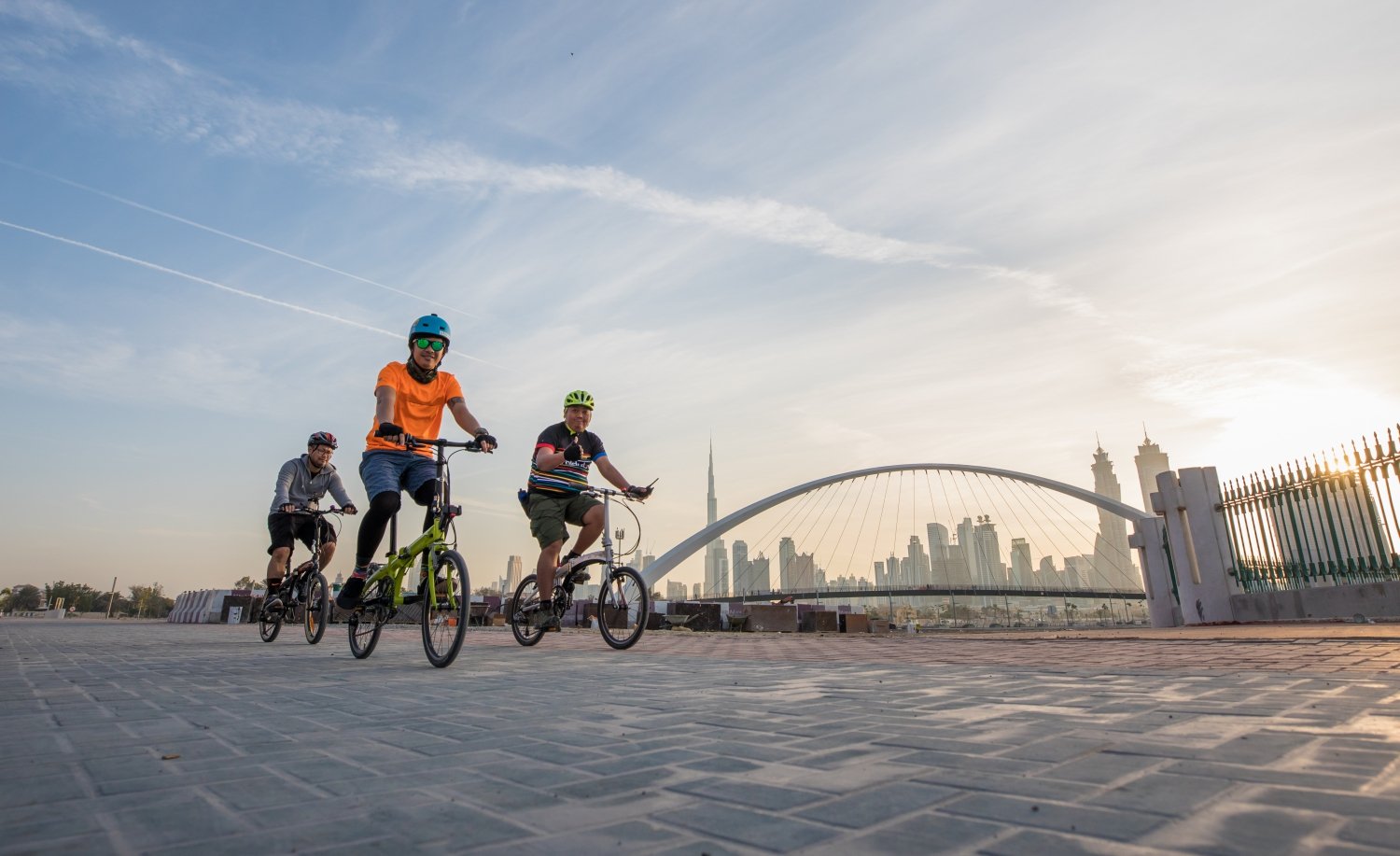 Cycling the Sights of Dubai
Adventure
Cycling is fast becoming a novel way to experience the magnificent city.
Cycling the Sights of Dubai
A land of skyscrapers, sand and scorching heat, renowned for cycling is something Dubai is not. But a rise in the popularity of peddle power and a push from the United Arab Emirates government in recent years has seen stretches of safe cycling paths and state-of-the-art parks pop up in and around Dubai. Cycling is fast becoming a novel way to experience the magnificent city and meet locals and expats. With fantastic weather spanning from October to May, cycling is the perfect way to see the sights while reducing your environmental footprint and waistline. Whether you're looking for a family day out or you're a bicycle enthusiast, the range of tracks and trails means there's no reason not to clip on your helmet and hop behind the handlebars.
Downtown Dubai
Take your own tour on two-wheels and peddle your way around the iconic sights of Downtown Dubai. With several bicycle docking stations now located throughout this prestigious area, bikes can be hired from 30 minutes to 24 hours. Ride around the world's tallest tower, the Burj Khalifa, the world's largest shopping and entertainment destination, The Dubai Mall and the world's tallest performing fountain, the Dubai Fountain. This biking adventure is ideal for families and renting is as simple as registering your details online. Docking stations can be found along Sheikh Mohammed Bin Rashid Boulevard (formerly Emaar Boulevard), The Dubai Mall and Burj Khalifa Metro Station, Emaar Square, Burj Park, Burj Plaza and next to The Dubai Mall.
Al Barsha Park & Jumeirah Open Beach Track
Beautiful surroundings and relatively short tracks make Al Barsha Park and Jumeirah Open Beach Track great family cycling destinations.
Open 8 am to 10 pm, the Al Barsha Park path is 1500 metres long and ideal for children. Entry is free. Alternatively, enjoy the vista of the open beach in Jumeirah, with a designated family bicycle path covering just two kilometres.
Nad Al Sheba Cycle Path
Once a camel racing track, Nad Al Sheba Cycle Path is just one of many new cycling paths in the area. Worth the ride, this family favourite features three tracks that look out over the skyline of Downtown Dubai. Choose between four, six and eight kilometre paths designed for both cycling and running. There is also a separate children's course highlighting road safety. Nad Al Sheba Cycle Path started as a vision of His Highness Sheikh Mohammed bin Rashid, the vice president and prime minister of the UAE and ruler of Dubai, to promote fitness and community spirit.
Dubai Autodrome
Usually home to the roaring engine of motorsport, Dubai Autodrome is taken over every Wednesday evening by cyclists, joggers and rollerbladers. An initiative of Cycle Safe Dubai, the group encourages cyclists to 'get off the couch and back onto their bikes'. The free night attracts a mix of experienced and beginner cyclists all looking to train somewhere without the worry of cars and traffic. It runs under floodlights from 6pm to 9pm and operates on a strict no helmet, no ride policy. The closed circuit is under 360 degree CCTV surveillance and has trained medical staff on standby, with access to fresh drinking water.
Al Qudra Cycle Path
For the more serious or adventurous cycler, two beautiful, brand-new cycling paths have been developed along Al Qudra Road. With a total length of about 86 kilometres from start to finish, the first part of the track runs for 18 kilometres before giving lovers of long-distance the chance to take on the further 50 kilometres of the second track. This unique and scenic loop is an opportunity to ride through the picturesque dunes and grab a cup of coffee from the famous Bab Al Shams Desert Resort & Spa to refuel. Cycle Safe runs regular long distance rides along the Al Qudra Cycle Path, while prominent local cycling club, Dubai Roadsters, also offers a variety of cycling adventures in the area for any age or ability.
It doesn't matter where in the world you decide to jump on a bike, safety precautions must be taken and Dubai is no different. Like any city, sharing the road with cars and heavy traffic comes with the obvious perils. Avoid any danger and take advantage of Dubai's amazing cycle paths and parks. Always wear a helmet and highly visible clothing. During the warmer months consider the extreme temperatures and the best time of day to venture out. Dubai Roadsters recommend setting out in the early morning or late in the evening and most importantly, stay hydrated! Drink plenty of water before, during and after your great Dubai cycling exploration.

Save
Save
Save