Dubai's Fascinating Architecture
Arts & Culture
Dubai has managed to hang on to a few small enclaves of its traditional architectural heritage.
Visitors to Dubai cannot fail to be amazed by some of the architecture in this rapidly growing modern city. Burj Al Arab is instantly recognizable throughout the world, but there is much more to Dubai's architecture and urban landscape than this one spectacular building.
In spite of the growth of the past twenty to thirty years, Dubai has managed to hang on to a couple of small enclaves of its traditional architectural heritage. The most well known of these is the Bastakiya area by Dubai Creek, and no visit to the city is complete without a walk around this small complex of buildings which give you a glimpse into Dubai's past. The Majlis Gallery is located in one of the houses in this area, and a visit will give you a chance to look at a range of art, from oils to sculptures, from calligraphy to watercolours, all while observing the structure of a traditional house. Built around a courtyard, with most of the rooms opening into the central area of the structure, the traditional houses also usually had shady verandas where residents could shelter from the heat, and were often cooled by wind towers which channelled the breeze into the building.
Traditional houses were usually built from coral and mud bricks. Mangrove wood was used for roof beams and to strengthen the walls, while ceilings were often made of date palm wood.
Near the Bastakiya area you will also find Al Fahidi Fort which houses Dubai Museum. The oldest part of the building was built in 1787. This small museum is definitely worth a visit.
Further along Dubai Creek towards the Gulf is Al Shindaga—another area that houses traditional homes which have been restored, along with a Heritage Village complex where you can discover more about life in Dubai before the boom. The residence of Sheikh Saeed Al Maktoum was built in 1896 as the ruler's headquarters. It now houses a museum.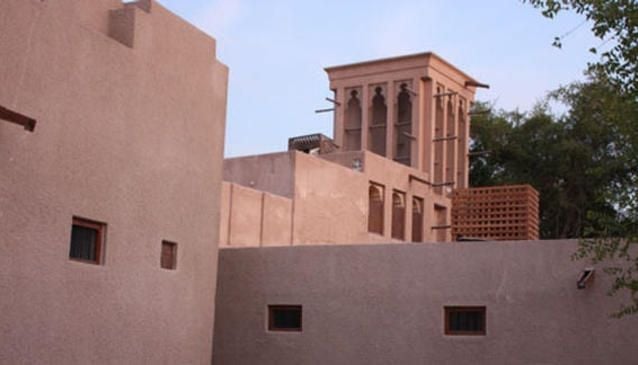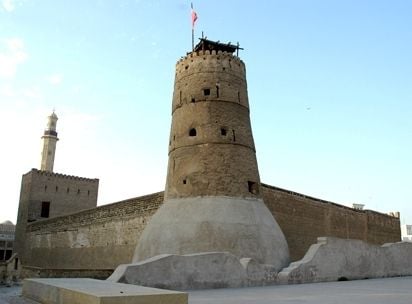 When it comes to modern buildings, Dubai has a number of buildings which are instantly recognizable worldwide. Perhaps the most well-known of these is the Burj Al Arab, a luxury hotel built on its own island just offshore from Jumeirah Beach. Its distinctive sail shape has helped make it one of Dubai's most photographed buildings. Close by, the canals of Souk Madinat Jumeirah provide some excellent viewpoints for photos. The nearby Jumeirah Beach Hotel, with its distinctive wave shape, is also a well-known masterpiece in its own right.
The magnificent spire of Burj Khalifa, the world's tallest building (828 metres), is all the more famous thanks to its appearance in the latest Mission Impossible film. Close by, you can find the Emirates Towers complex; twin towers that were completed in 1999 which provided another elegant addition to the Dubai skyline with their distinctly sharp edges and striking lines. These twins have found their way onto more sculpted memorabilia than other notable landmarks in the region.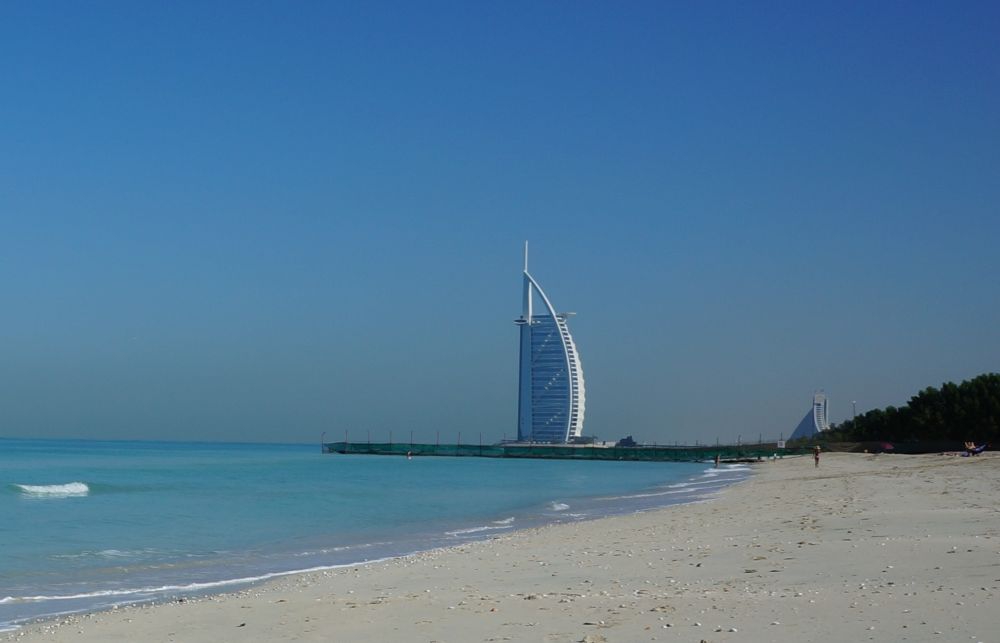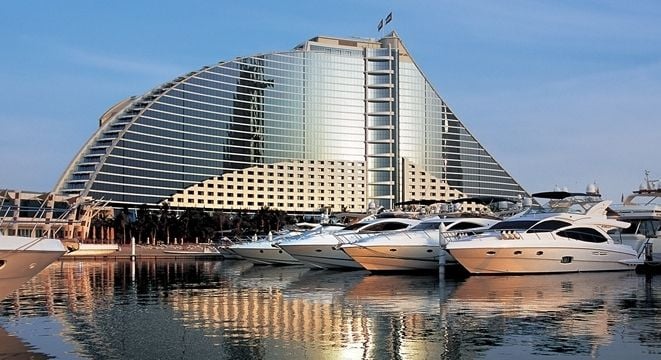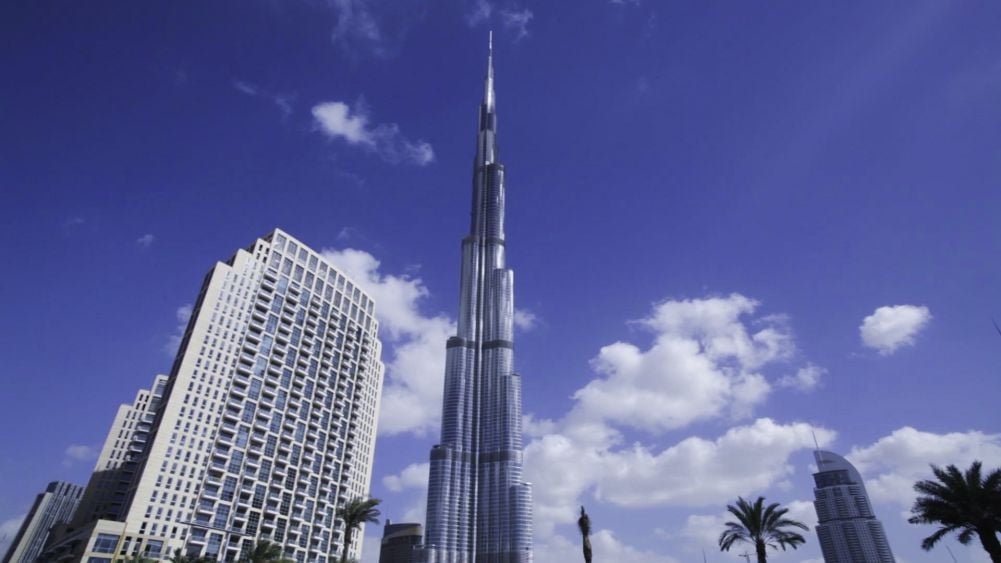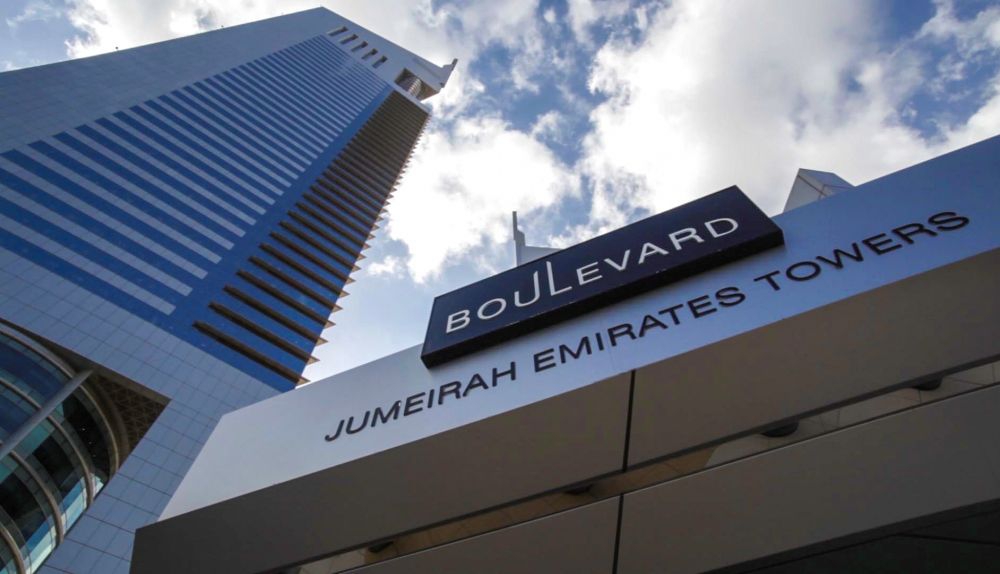 Head down to Dubai Creek at sunset to see the National Bank of Dubai (now Emirates NBD) building. This graceful building was inspired by the shapes of the dhows which regularly ply their trade up and down the Arabian Gulf. Two massive granite columns support the tower on each side, and a curved glass curtain wall on the Creek side reflects the water, boats and sky, and is particularly beautiful at sunset.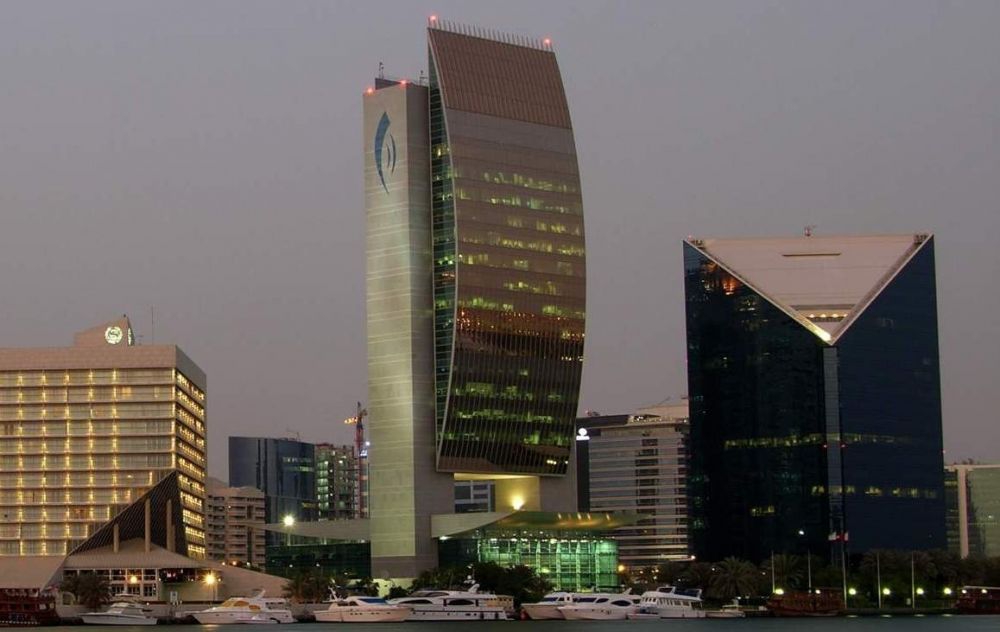 No introduction to Dubai's buildings would be complete without mentioning the architecture of its mosques. Jumeirah Mosque is especially well known. It is one of the largest, if not the largest, mosques in Dubai and is particularly beautiful at dusk and at night when it is illuminated. It is also open for non-Muslims to visit (tours are organised by the SMCCU – Sheikh Mohammed Centre for Cultural Understanding).
Nearby on Al Wasl Road is another, though very different, mosque. The Iranian Mosque in Satwa is covered with lustrous green and blue tile work (faïence) in the manner of many Shi'ite mosques. The nearby Iranian Hospital has similar decorations.
From old to new, if you're into architecture, Dubai without a doubt has some truly spectacular buildings that combine state-of-the-art architectural design with traditional Arabic flavour that will amaze you. Set aside a few days to take in these sites because you won't be disappointed.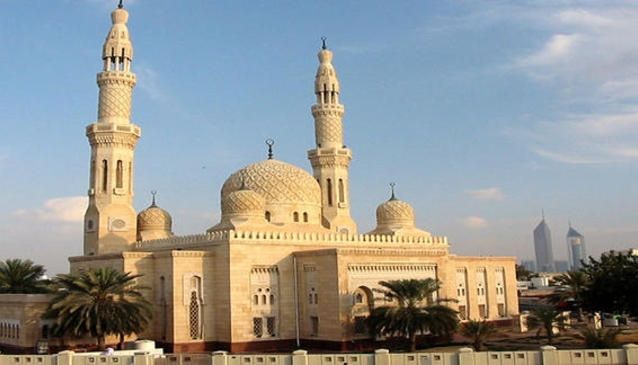 Save
Save