Weekend Getaways in and Around Dubai
Adventure
Some time to yourself to let loose, forget all your troubles and truly relax...
Our Top Experiences and Tours in Dubai:
If youʻre booking your trip to Dubai last minute, we have you covered. Below are some of the top tours and experiences!

We all know the feeling; the stresses of everyday life are just getting too much and you could do with a well-earned break. Some time to yourself to let loose, forget all your troubles and truly relax. Well whether you're in Dubai and looking to get out, or outside Dubai and looking to come in, here is a selection of some of the best weekend breaks in and around the bustling emirate.

Weekend Breaks outside Dubai:

 

Oman Dive Centre

A five hour journey from Dubai, this ideal dive site attracts throngs of marine life due to the high nutrient content and its location on the continental shelf. Experience the beautiful colours of the coral gardens, or opt for the wreck or night dives and expect to swim alongside rays, sharks, schools of fish and even dolphins. The rustic beach chalets are air conditioned and mean guests are mere minutes from the clear, warm waters and abundant sea life.

 

Zighy Bay

Located in the midst of stunning geography, the rugged mountains spring up from the majestic coastline giving starkly contrasting views and beautiful surroundings. The five star Six Senses resort in Oman is a favourite with city slickers who fancy a bit of coastal relaxation. The luxury villas all have private pools and a ban on mobile phones in public areas for some real peace and quiet and a true detox. Although expensive, you could say the chance to paraglide to your front door from the surrounding mountains makes it all worthwhile.

 

Saadiyat Island

Half a kilometre off the coast of Abu Dhabi, the picturesque island is a recent innovation, aimed to become a rich cultural hub for the discerning traveller. The multi-faceted destination is truly unique and a real draw for culture vultures with architectural icons, dazzling beach front holiday accommodation, the world's first tidal and ocean golf courses, and works of art galore. Only an hour's drive from Dubai, it can be reached by highway bridges that link it to mainland Abu Dhabi. The St Regis is a luxury resort on the island, holding luxury villas, apartments and hotel rooms with excellent facilities for a truly extravagant break.

 

Liwa

Situated on the northern edge of the Rub'al Khali desert (the Empty Quarter) in Abu Dhabi, the Liwa region, or Liwa Oasis as it is also known, is historically the home of the Nahyan family and is now populated by a cluster of Bedouin villages. Tal Mireb, a large and impressive sand dune is the main attraction, where there'll be more camels than people and sand boarding is vastly popular. For the great outdoors adventure, take your 4x4 off road and find the best spots for a truly peaceful getaway. Many people choose to combine camping with a stay in the Tilal Liwa Hotel; just over three hours drive from Dubai, the stunning four star resort offers sumptuous seclusion with breathtaking views of the surrounding dunes.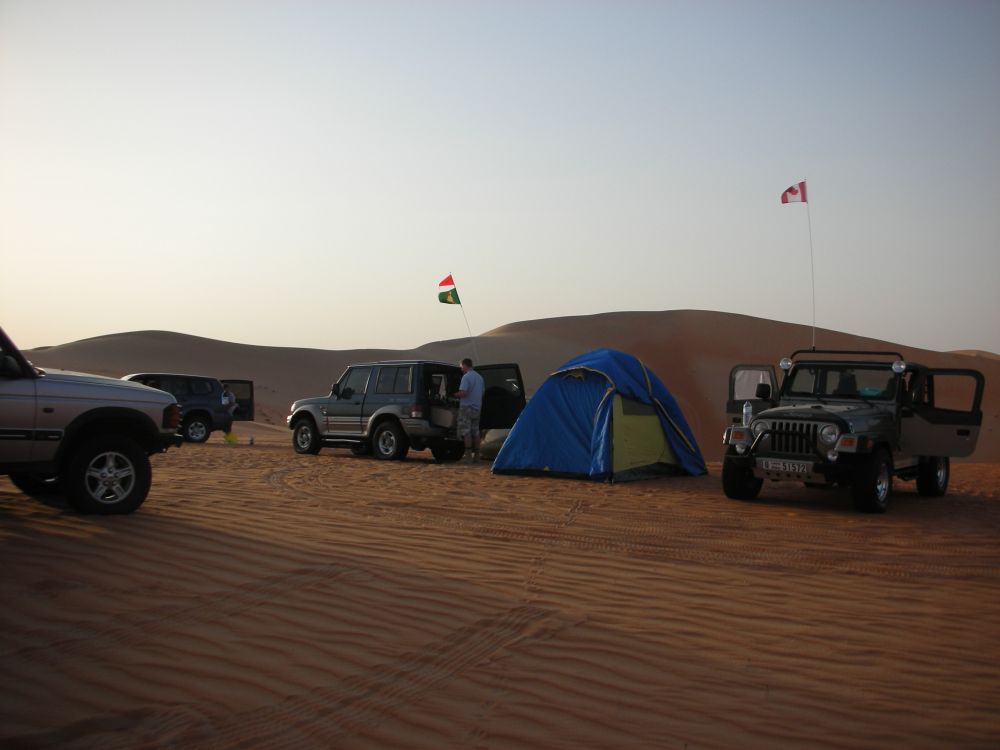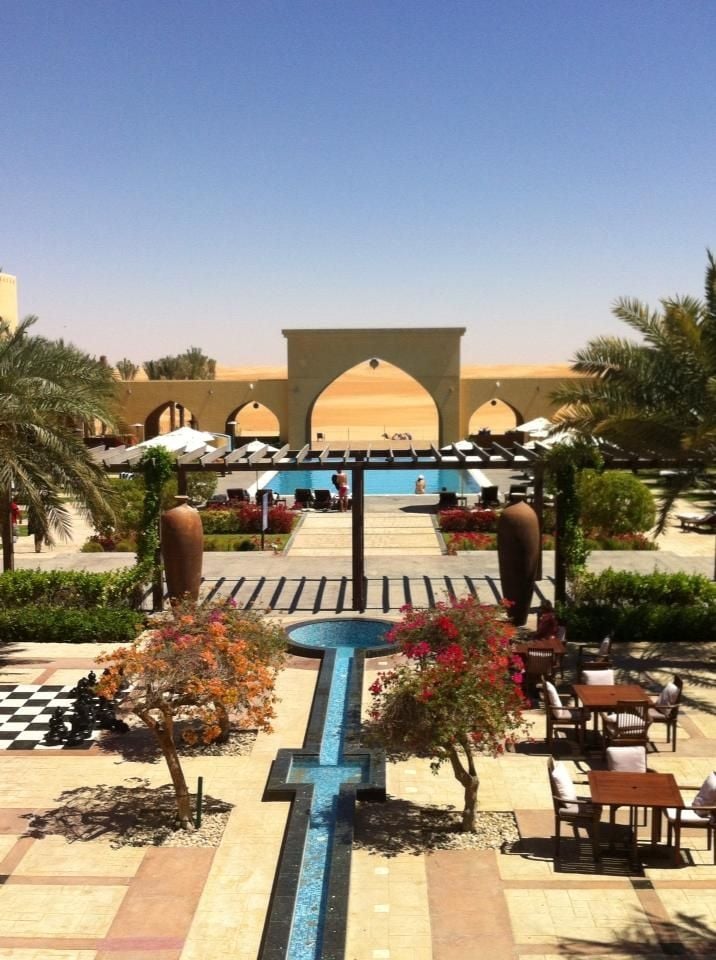 Quick Fix Weekend Breaks in Dubai
Where: Desert Palm
Distance from central Dubai: 20 minutes
Details: A detoxing combination of healing spa therapies, relaxation, fitness and healthy organic cuisine. Why not indulge in a massage, facial or therapeutic water experience and feel the stresses of everyday life wash away?
Where: Jebel Ali Golf Resort and Spa
Distance from central Dubai: 30 minutes
Details: As the chosen resort for the start of the European PGA Tour, Jebel Ali is a top of the range golf course with an additional luxurious spa. Its unique landscaping with exotic trees and salt water lake add to the beautiful coastal views, mere metres from the greens. And if golf's not your thing, then pamper yourself silly in the indulgent spa.
Where: Al Maha
Distance from central Dubai: 40 minutes
Details: For a special occasion, the rather expensive, but truly opulent luxury resort offers a range of once in a lifetime desert activities. The camel trek takes guests out into the remote desert to enjoy the peaceful surroundings and indulge in champagne and snacks whilst watching the beautiful sunset over the dunes.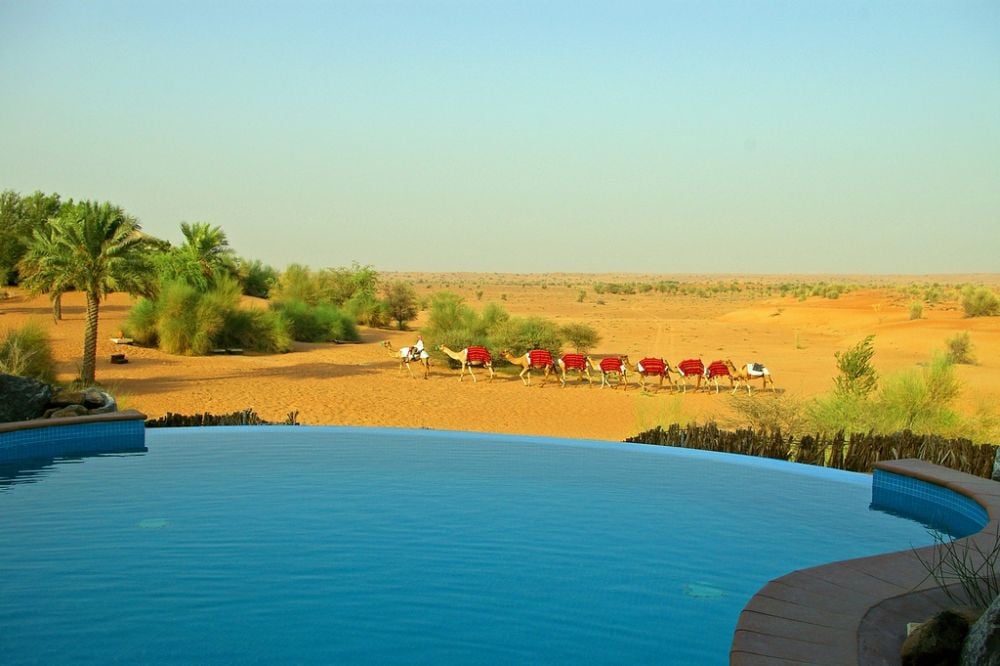 Photo credits, Flickr: Yutaka Fujii
Where: Hatta Fort Hotel
Distance from central Dubai: 1 hour
Details: For a mountain retreat, the Hatta Fort is very popular, due to its low humidity levels. Its cooler temperatures and array of rockpools and waterfalls means it attracts families as well as couples. Whilst you're there, the Hatta trek is a must, which takes you to the Fort, built in the 16th century and brilliantly preserved.
So when it all gets too much, pack a bag, hop in the car and head off for a relaxing weekend break to truly indulge. Whether you're looking for desert, beach, spa or sporting getaways, Dubai has it all; so what're you waiting for?
Save
Save
Save