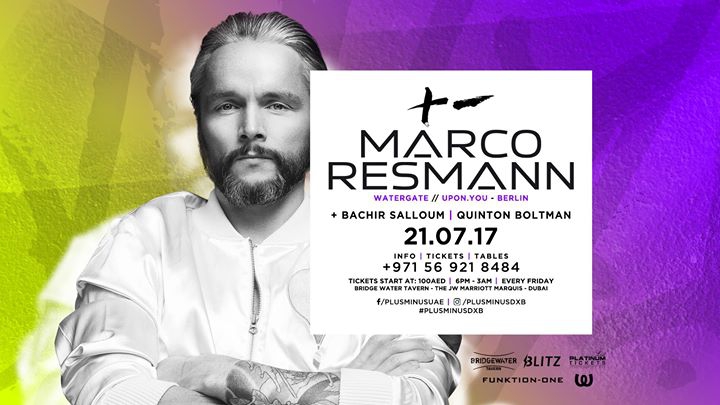 Event Details
And the saga continues, in & out every Friday, getting bigger and better as we go towards the end of Summer, we really kick things up notch Friday 21st with Marco Resmann and support from Dubai's finest Bachir Salloum & Quinton Boltman.

July 21st #PlusMinus Summer Sessions at Bridgewater DXB.

*** Plus Minus PM
6 – 9pm FREE ENTRY for everyone and food offering.
Men gets 5 beers or soft drinks + a starter & main course for AED275.
Women gets 5 cocktails or soft drinks + a starter and a main course for AED 275

*** Plus Minus Club
9pm - 10pm FREE ENTRY for ladies
9pm – Midnight AED 100
Midnight onwards AED 150
Doors will close once we reach full capacity

Dress Code: Dance friendly
20% OFF for PLATINUM Holders

Reservations & Information: +971 56 921 8484

Back in the mid-90s, native Berliner Marco Resmann took his first stumbling baby steps behind his two decks and mixer, and his ongoing journey has placed him as an integral part of the city's respected techno and house scene. As a DJ, his earliest passion, he's gone from playing underground parties playing regularly in his hometown's top clubs (such as Watergate and Panorama Bar) to touring internationally. As a natural extension of mixing records, Resmann evolved into a skillful producer as well, whether solo or as half the duo Luna City Express (and previously, as an original member of Pan-Pot).