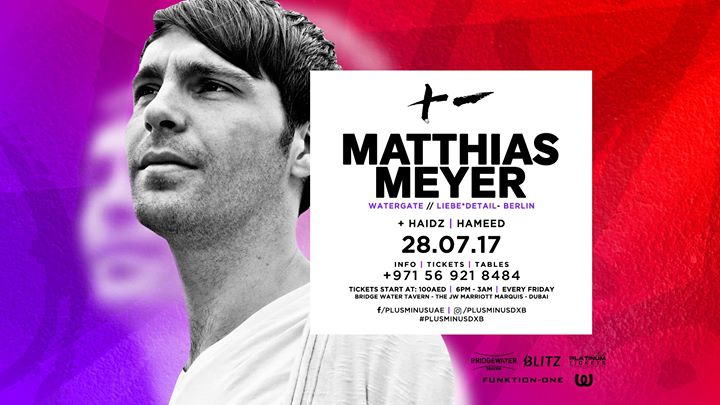 Event Details
July isn't over yet, but we are ending it with a big bang! Matthias Meyer taking over our #PlusMinus Summer Sessions on July 28th with support from Haider Al & Hameed.

July 28th #PlusMinus Summer Sessions at Bridgewater DXB.

*** Plus Minus PM
6 – 9pm FREE ENTRY for everyone and food offering.
Men gets 5 beers or soft drinks + a starter & main course for AED275.
Women gets 5 cocktails or soft drinks + a starter and a main course for AED 275

*** Plus Minus Club
9pm - 10pm FREE ENTRY for ladies
9pm – Midnight AED 100
Midnight onwards AED 150
Doors will close once we reach full capacity

Dress Code: Dance friendly
20% OFF for PLATINUM Holders

Reservations & Information: +971 56 921 8484

Matthias has broken through into spotlight thanks to his uniquely passionate take on the house and techno genres. His love of rich, energetic club music full of texture, life and heart propels him to work more and more. His work as a Dj allows him to bring this very human, endearing quality to an increasingly large audience.

In his eyes, the great joy of Djing house music is that, unlike in so many other scenes, he doesnt need to play pop hits to get dancefloor recognition. Instead, he can spin a long tale of rolling grooves and evolving, emotive musical stories that provoke a different, inner relationship between DJ and dancer.

As requests for original tracks and remixes flood in, Matthias remains grounded. For him the groove is the most important thing. He doesn't rush his music, rather he spends as much time as is needed perfecting his art. For this reason he will remain a very special commodity, a true artist and true creator, so that when his music is experienced it will never fail to pass you by.