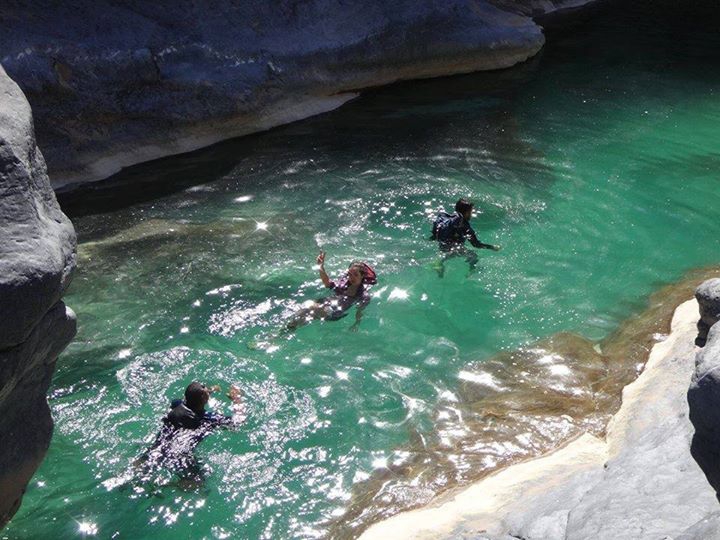 White Wadi Canyoning - Oman
Adventurati Outdoor
Fri Mar 16th 2018 to Sat Mar 17th 2018 at 13:00 until 18:00
---
Dubai
,

Office 49 - Al Fulaya Plaza, Ras Al Khaimah

,

Ras al-Khaimah

Dubai
https://www.myguide-dubai.com/events/white-wadi-canyoning-oman
BOOK NOW
Event Details
We are back to Oman for our most popular trip: Spots are limited. Sells fast!

Join us for an exciting canyoning trip in Oman. Surrounded by like-minded adventurers and overwhelmed the breathtaking nature and view experience a wadi that has a lot to offer. Wadi Damm is remarkable for its characteristic rocky formation sculpted by erosion. The variety of water pool sizes combined with trekking and scrambling leads into a little slice of paradise where a green carpet of moss and grass forms a curtain dropping down into an emerald pool forming a waterfall.

Difficulty level of this route is 3/4 out of 10.
No rope skills or technical gear is required.
Good amount of swimming in relatively cold water is involved.
There is nothing technical about this hike. However, a really good amount of fitness level is required.

This route in Wadi Damm is around 5 to 6 our round trip depending on group pace. This trip is not for beginners who have not hiked before. This requires being comfortable outdoors and challenging your self scrambling and bouldering through the wadi.

• 4x4/SUV is required (car sharing arranged after booking)

❍ COST:
460AED per person (USD 125$)
Payable online via www.Adventurati-Outdoor.com

❍ WHAT IS INCLUDED:
• 1 BBQ dinner, 1 breakfast, 1 trail mix pack for the hike
• Experienced and certified mountain Guide
• Assistant Guides
• First Aid
• Radio communication
• Fun and Entertaining Atmosphere
• Water (Feel free to bring your own water canteen or water bladder to save use of plastic bottles)

❍ PROVIDED CANYONING GEAR:
• Life Jacket
• Helmet

*Note: If you are a vegetarian kindly notify us 4 days in advance.
(For any other diet specifications or food allergies, feel free to bring your own)

❍ DOES NOT INCLUDE:
• Gear (Backpack, trekking pole etc)
• Transportation (Car Pooling System)

❍ REGISTRATION PROCESS:
Visit www.Adventurati-Outdoor.com

❍ HIGHLIGHT:
• Escape to nature and explore new area
• Exciting Adventure and proper outdoor workout
• Learn new skills
• Connect with like minded adventurers

❍ VISA REQUIRMENT:
• Exit/Entry in UAE - 35 AED
(Payable by Credit/Debit card only)
• Oman visa for GCC residents - 50AED
• Oman insurance is available at border - 80 or 150AED depending on car model
• For visa inquiry you can contact Oman Embassy on +9712-463-333

IMPORTANT NOTE:
If you are resident then you should be able to get Oman visa on arrival. Your passport should be valid for more than 6 month and your visa more than 3 month. However some nationalities or job titles (like secretary, labor, driver, waiter etc) or if your a student or on family visa you can only get visa by applying prior through Omani Embassy/ Consulate. It shouldn't be a problem for positions of managerial , equivalent and higher. You can contact the embassy and confirm so you avoid disappointment on day of the trip.

❍ Itinerary:
• Meeting point at 1:00pm in Al Ain at ADNOC petrol station just before Mezyad Border.
Location: http://goo.gl/maps/6xc33
• Estimate 45m to 1 hour crossing border/visa
• Reach the Adventurati Camp in Oman at approximately 7:30pm
• Driving distance Al Ain to Wadi Damm approx 360km
• BBQ Dinner and Games

❍ CAMPING GEAR LIST
• Tent (feel free to bring your own or ask for lend/limited quantity)
• Mattress (feel free to bring your own or ask for lend/limited quantity)
• Sleeping bag (feel free to bring your own or ask for lend/limited quantity)
• Chair (optional)
• Jacket (could be cool at night)
• Headlight or torch for night around camp

❍ CANYONING GEAR LIST:
• Sport shoes/ canyoning shoes (No need for boots)
• Swimming suit and dry-fast tshirt.
• Shoulder backpack to hold your water and snacks or camel pack. (A MUST)
• Towel / extra clothes to change after hike/canyoning (leave it back in the car)
• Don't take your camera in the water, unless it is waterproof/ GoPro
• Sun protection
• Sports water/ dehydration packs (optional)
• NO SANDALS

❍ DIFFECULTY ELABORATION
www.adventurati-outdoor.com/en/fitness-level

❍ WAIVER FORM
By completing booking of this trip, you acknowledge full responsibility of understanding and agreeing to waiver as described in link herewith:
www.Adventurati-Outdoor.com/en/waiver

❍ TRANSPORTATION
Carpooling system is best way when organising community event. Once we have confirmation for those attending we will manage seats and make sure everyone has a ride. Make sure you sign up on the Car sharing sheet to confirm your ride (will be shared with those confirmed/completed payment)

❍ TERMS & CONDITIONS
www.adventurati-outdoor.com/en/terms-conditions
Strictly, No Refund for Cancelation

❍ WEATHER CONDITIONS
Adventurati Outdoor has the right to cancel trip without notice due to sudden change in weather condition that might affect the overall safety of everyone joining. If the cancelation has been made by operator side, all participants will be refunded.