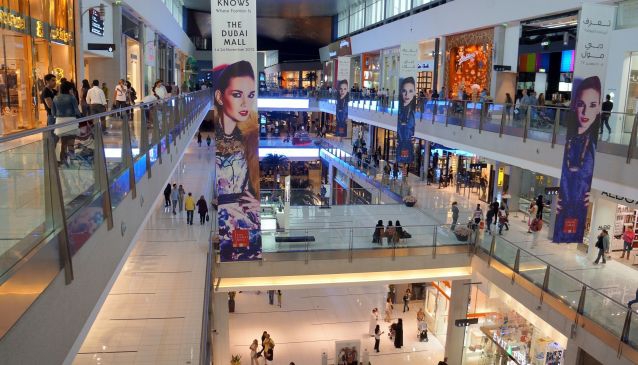 Shop Till You Drop
Family Fun
Want to meet up with friends? Meet them at the mall.
No visit to Dubai is complete without a trip to at least one, or two if you have time, of those cathedrals of consumerism that are known as shopping malls. With the weather for much of the year making it unpleasant to be outdoors, shopping malls in the UAE have developed to be a 'total entertainment solution'. They are packed with shops, of course, but also include restaurants, entertainment centres, cinemas, and sporting facilities. Want to meet up with friends? Meet them at the mall.
Dubai Mall, with some 1200 retail outlets, is the largest in the world by area. When you've had enough of shopping you can get some exercise on the full size ice rink, or enjoy watching the fish in the aquarium. Dubai Mall is right next to Burj Khalifa (the world's tallest building) and an artificial lake where the Dubai Fountain entertains visitors. For the best views of the fountain I recommend that you grab yourself a coffee, or a delicious green tea milkshake, at the café inside Book World by Kinokuniya, and head out onto the balcony.
If you want to combine your shopping trip with some exercise and cooler temperatures, and if ice skating isn't your thing, then head to Mall of the Emirates. Here you'll find Ski Dubai – an indoor snow field that includes five runs of varying difficulty. The longest is 400 metres with a fall of 60 metres. The price includes all your gear (except hats and gloves). You can book in for lessons. If you're not up to skiing but still want to enjoy the snow, there's a snow park or you can even arrange an encounter with penguins.
Of course it's not just about the entertainment. The architecture in some of the malls and the design elements are unique, and in some cases, quite bizarre.
Ibn Battuta Mall has six sections, the décor of each based on design elements from one of six countries or regions, namely China, India, Persia, Egypt, Tunisia and Andalusia, reflecting the journeys made by the explorer Ibn Battuta. Need some exercise – just hike up and down the length of the mall a couple of times and you will have easily covered a couple of kilometers.
The main theme of Wafi Mall is Egypt. Pyramids abound, including the adjoining Raffles Hotel, along with concrete sphinxes, giant statues of Ramses II and interior décor packed with lotuses, columns and spectacular stained glass ceilings. Deep below Wafi is the Khan Murjan souk, which, according to the website, is modeled on 'an ancient subterranean souk in Baghdad that inspired all who laid eyes on it.' Head to Medzo at Pyramids for delicious Mediterranean style food, or into the cozy darkness of Vintage for some wine and cheese. Or get covered with mud and relax in the steam of the Rasul at Cleopatra's Spa.
Mercato Shopping Mall was inspired by the architecture of Venice and Tuscany. Show them your hotel key and you will be given a book of discount vouchers to help you spend your money!
Deira City Centre, Al Ghurair Centre and Burjuman are three of the older malls in Dubai, but each has undergone extensive renovations and expansion projects, making them as modern and comprehensive as the newer malls. And Mirdif City Centre and Dubai Festival Centre are further monuments to merchandising that can eat up the hours, and empty the wallets, of any visitor.
It's easy to get to the major malls with most of the hotels being on the route to whichever is nearest.