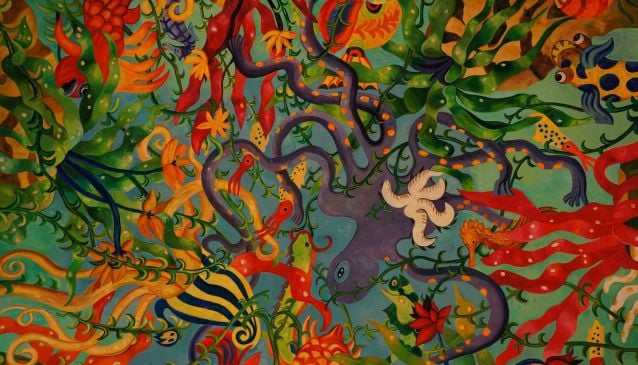 The Arts & Culture Scene in Dubai
Arts & Culture
Dubai has never been a more appealing choice destination for art and culture.
The United Arab Emirates is undergoing something of a cultural renaissance lately with plans to have built a new cultural capital by 2030. With lots of new places opening up to host visitors and events, it's quickly reaching that goal and becoming one hot ticket. With a rich history, thriving new arts scene, landmark architecture and plenty of world class restaurants, Dubai has never been a more appealing choice destination for art and culture.
The art scene in Dubai is really blooming and perhaps one of the best places to enjoy this is The Pavilion; the cool, downtown cafe-gallery space hosting local and international contributors, workshops for various artistic mediums and discussion forums. With really fresh shows, from varied artists, this is where to find exciting talent and a brand new perspective. The Pavilion is a non-profit space, which offers something unique to the arts community. It's just plain cool, with its shisha cafe, espresso bar, restaurant, cinema, library and lounge as well as two gallery spaces. The design inside is pretty innovative too, which creates the perfect space to get artists and admirers together, to discuss, explore and enlighten. There are lots of great galleries and art museums in Dubai worth checking out, and new ones opening regularly with a burgeoning art scene. For fine art photography check out The Empty Quarter, showcasing beautiful and fresh work covering street photography, fine art, photojournalism, portraiture, abstract and poetic styles and more. The Mojo Gallery presents new artists across varied media and takes a contemporary approach. For a sophisticated gallery with prestigious talent, saunter down to Ayyam Gallery.
For booklovers, there is The Emirates Airline Festival of Literature in early March. It's a world class literary event hosting some prestigious talents as well as some lesser-known but equally worthy Emirati writers.
Dubai offers a chance to travel back in time with its wealth of historic attractions. Pay a visit to the Al Fahidi historical neighbourhood, or explore the Al Fahidi Historic District where you'll find classic Arabic architecture along narrow streets, and a whole host of cafes, art galleries and museums. Those keen to explore the history of Dubai can get a view of the bigger picture at the national museum. Dubai Museum has vast collections of artefacts, and recreated scenes from mosques, farming, and traditional desert life.
To really explore Arab and Emirati life, visit The Sheikh Mohammed Centre for Cultural Understanding (SMCCU), who arrange cultural experiences for guests in the spirit of understanding. They are a cultural awareness organisation aiming to improve friendships and appreciation between local culture and the tourists, expats and other visitors who come to the UAE. Set up in 1998, they host a range of enjoyable ways to experience Arab life and meet great company. Cultural lunches run a couple of times a week and there are several tours, including the Bastakiya heritage tour, the Bastakiya walking tour, and the creek side tour. We'd recommend a visit with them to Jumeirah Mosque, a true beauty spot in Dubai, which is worth a visit for the building alone. However it is also the only mosque in Dubai open to the public, and welcomes non-Muslim visitors. You can take the tour, enjoy the stunning interiors and ask any questions about Islam and its practice in Dubai. SMCCU's ethos of 'open door open mind' ensures everyone has a good time.
If you've ever imagined yourself an eastern prince or princess, then take a walk through the narrow alleys of Gold Souk, where you'll be dazzled by fortunes of gold, often sold by its weight. An evening stroll amongst these riches, in the so called City of Gold as Dubai is known, is sure to make you feel the splendor of this fortune.
While in Dubai, you can't miss the Dubai Fountain; if you go at night you're in for a particularly magical display. It's the world's largest dancing fountain and is well worth a visit. If you're not afraid of heights then why not venture to At The Top, Burj Khalifa? Its needle shape pinpricks the sky, and the higher windows host a pretty impressive view. But it's definitely worth booking ahead if you hope to go up, as it will save you time in the queue, and the ticket price is lower.
With a growing demand for live shows and concerts in Dubai, big productions are now visiting the city. The Madinat Theatre has a varied choice of productions on at any time, and really caters to a wide audience with world class and popular shows. Alternatively, check out Dubai Community Theatre & Arts Centre (DUCTAC) for further choice. The Centre for Musical Arts Dubai hosts classic events with learning programmes, so it's a great place for expats or families visiting Dubai who want to maintain musical practice or lessons.
So much is going on in Dubai that it's worth checking out our events section to see what exhibitions, concerts and shows have been scheduled for your time here. With all that this wonderful city has to offer, you can have a culture-packed time staying busy among all these stunning attractions, or just pick a few special visits and events and really relax – the choice is yours.
Save
Save
Save
PUBLISHED: Jul 20th 2017 | UPDATED: Jul 10th 2017